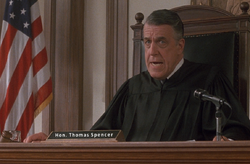 Thomas Spencer
(born 29 April 1950) is an Associate Justice of the
Court System of San Andreas
. He was nominated to that position by
the Governor
and confirmed by the San Andreas State Legislature in April 2014, after having served 10 years as a district judge for the United States District Court for the Northern District of San Andreas. He is considered to be a conservative judge in terms of application of the law and is known for his opposition to judicial activism.
Early life and education
Edit
Spencer obtained his B.A., J.D. and L.L.D. at the University of San Andreas, Los Santos.
Judicial service
Edit
Cases heard
Edit
Personal life
Edit
See also
Edit
Ad blocker interference detected!
Wikia is a free-to-use site that makes money from advertising. We have a modified experience for viewers using ad blockers

Wikia is not accessible if you've made further modifications. Remove the custom ad blocker rule(s) and the page will load as expected.